1) Selection Process:
A personal profile statement is a vital part of candidate's application for fellowship and his introduction to the selection panel. The required personal profile statement must be relevant, short and to the point (approx 100-200 words, containing positive points).
A properly filled out application containing
Detailed CV
Profile statement
Relevant certificates should be sent to:
Mr Yogesh Saini
Coordinator -Dept. Of spine surgery.
Room No: 1028, near nursing station 2, Ground
Floor, Artemis Hospital, Sector- 51, Gurgaon,
Haryana- 122001
Ph: 8377004016
A soft copy of the application must be e-mailed to Dr Himanshu Tyagi at drhimanshurtyagi@gmail.com
About Department of Spine Surgery, Artemis Hospital:
The department of spine surgery is headed by Dr Hitesh Garg, who is a very accomplished spine surgeon trained in USA. The department is credited with performing close to 600 spine Surgeries annually with clientage being both national and international patients. The department stress on high levels of professional excellence and patient care. The spectrum of surgeries performed include degenerative spine disease, spinal deformity correction, minimally invasive spinal procedures, tumor resection surgery, palliative spinal care and spinal fracture fixations.
The department is guided by Dr Himanshu Tyagi, Consultant Spine Surgeon who has a rich experience of handling various spinal pathologies. He has special interest in minimally invasive and endoscopic spinal surgeries.
"Fellowship at Artemis Hospital provided me the biggest rewarding experience in my medical practice. Dr Hitesh Garg is is best mentor any Spine Surgery Fellow would ever get. My time in fellowship also included rich conversation, new way of thinking and comfortable environment in operation theatre provided by Dr Himanshu Tyagi. Moreover, there is continuous support and association with previous fellow, Dr Jitesh Gawande, who also helped thru his own experiences. "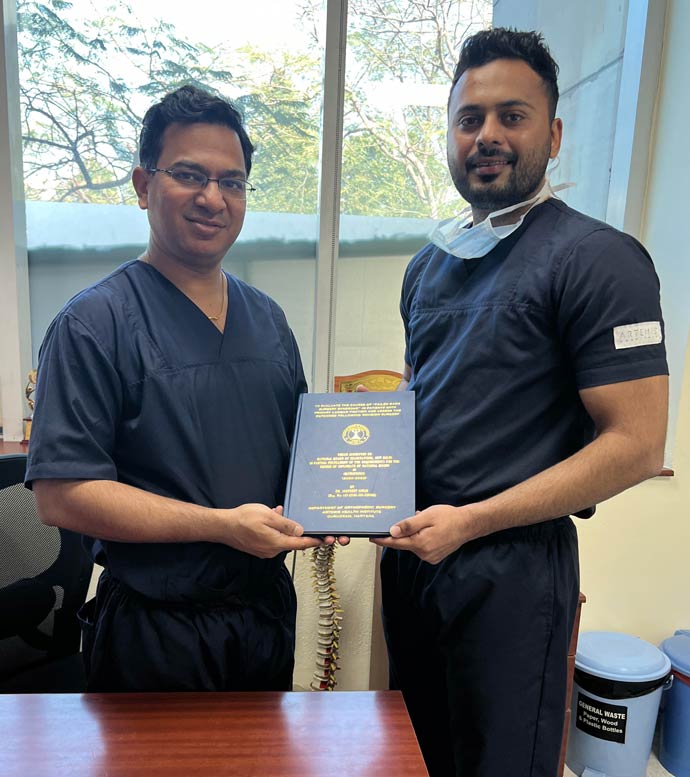 Dr. Jaspreet Singh (DNB Student 2021-2022)
It is always a great feeling when your student finally finishes the thesis and successfully presents it. Congratulations to Dr. Jaspreet Singh for completing thesis on "Failed Back Surgery Syndrome."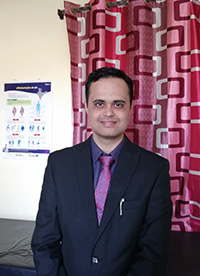 Dr. Jitesh (Fellow 2016-2017)
"I am Getting more than what I expected out of this training programme at artemis hospital. I am involved in various teaching programmes of the department. I am involved in examining the patients in OPD, their pre op evaluation, deciding & planning their management, surgery and post operative management. I am getting hand on training right from the first day of my fellowship under the expert guidance. All the patients are managed based on evidence based protocols accepted worldwide which helps me in making a more accomplished spine surgeon "
Dr Saumil Mandalia's feedback (Fellow 2017-2018)
I am pleased to write about my experience during Fellowship in Spine Surgery with Centre for Spine. I am thankful to Spine Surgery Department headed by Dr Hitesh Garg at Artemis Hospital for providing me an opportunity to work with them. It took only 15 days for me to solidify my desire to continue as spine surgeon for my future practice. I learnt everything related to spine surgery during my fellowship from getting patient in out patient department to surgery and post operative care. I was particularly pleased to get opportunity to have delivered talks and presentations during my fellowship. It was really good that great emphasis was given to team work by Dr Hitesh and Dr Himanshu.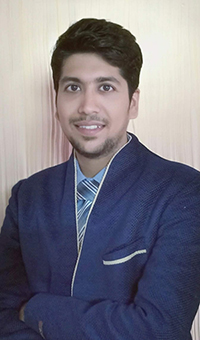 Dr Shabbir (Fellow 2018-2019)
Hello everyone.
This is my story of becoming a skilled spine surgeon from a heavy handed orthopedician. My Prof Dr Hitesh sir always use to tell that to become a spine surgeon you need fine(sharp) hands and hence a orthopedic has to learn before he operates soine. The dream (keeda) of becoming a spine specialist was born on the day I joined my MS degree but was given life at Artemis hospital by my own respected Dr Hitesh Garg sir and Dr Himanshu Tyagi sir..
Believe me guys everything that you need in a fellowship is available at this institute from variety of cases, hands on work, academics to friendly working atmosphere both in ot and opd. I have observed, assisted and performed everything from anterior cervical to dorsolumbar to minimally invasive surgeries. To add to this I must also tell you that we did a lot many deformity cases including all types of osteotomies.
You get to assist the professors in opd for a one to one discussion related to the case. Prepare notes accordingly and carry out a weekly discussion based on the same. There is a lot of opportunity to do academic publications. I am also a recent pass out and I know fellowship this days only means cheap skilled labourers. But it's not the case at Artemis. They offer a good stipend along with only one fellow at a time so that it can be fruitful for the fellow.
The hospital is one of it's kind with all the available infrastructure from microscope to o-arm to all high end gadgets. The more interest you take in learning discussing and performing good surgeries the more Dr Hitesh sir and Dr Himanshu sir is ready to teach..
I too had my doubts just like you about entering into the field of spine wether I would be able to perform such difficult and challenging surgeries. But after the fellowship I am sure you would get your answers. I am really thankful to Artemis hospital and Dr Hitesh Garg to provide me with this opportunity to learn, grow and believe in myself. If you have any doubts related to anything please feel free to contact me at 9712940925.
Dr Sabuwala Shabbir k Ms Ortho, D.n.b Ortho, MNAMS, Fiss (Delhi).
Selected candidate for 2019-2020 spine fellowship - Dr Prerak Yadav, Ph:9727299116.