What is Transforaminal Lumbar Interbody Fusion (TLIF) Surgery?
---
Some patients of sciatica and low back pain who have one or more of the following conditions may need TLIF surgery
Spinal instability which means that the normal movement between 2 bones of lumbar spine becomes abnormal
There is very severe facetal arthritis I.e. arthritis of joints of spine causing back pain
Patient with disc prolapse and sciatica where a large amount of disc may need to be removed and can cause potential instability
Patients with recurrent disc prolapse
Patients with low back pain due to degenerative disc disease who have failed 6 months of conservative treatment with physiotherapy and medicines
TLIF Patient from all over the world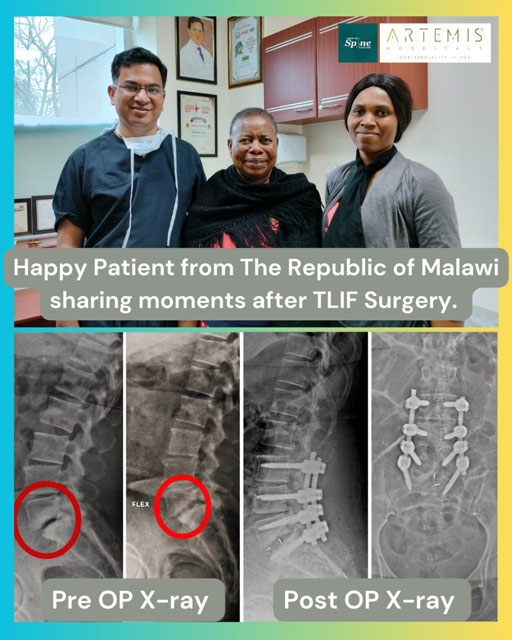 Mrs. Precious from The Republic of Malawi suffering from Spondylolisthesis sharing happy moment after surgery.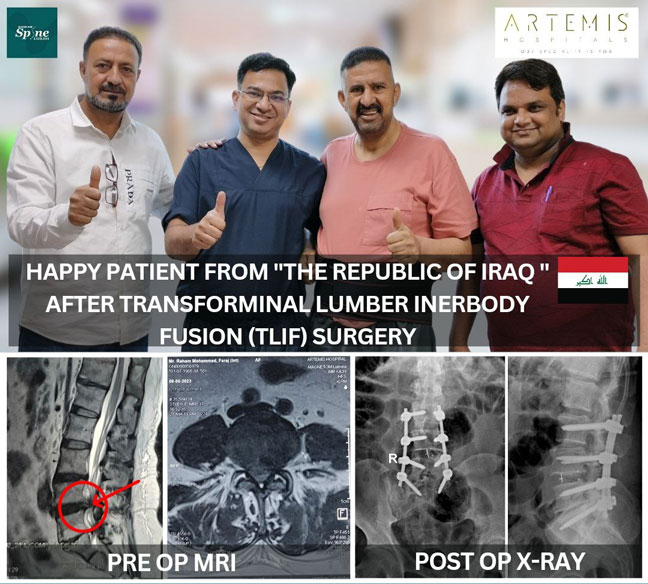 Happy Patient From "The Republic Of Iraq " After Transforaminal Lumbar Interbody Fusion (TLIF) Surgery
How is the surgery performed?
TLIF surgery (transforaminal lumbar interbody fusion) is a procedure where the disc between 2 vertebral bones is removed and is replaced with cage filled with bone graft. Pedicle screws and rods are inserted in the spinal bones to fuse two or more vertebrae together.
TLIF surgery is a surgery where metal rods and screws are used to hold the spine bones in place till spinal fusion takes place. This surgery is used to help relieve the symptoms of pressure on the spinal nerve roots, stabilize the spine and strengthen the spinal column at the same time.
Now a days, this surgery can be done in a minimally invasive manner through a very small incision known as MIS- TLIF
Advantages:
Reduction of symptoms like back pain, numbness and tingling in extremities;
Improves range of motion of spine
Increased stability for spine;
Promotes healing of spinal column
Disadvantages
Fuses the 2 bones of spine together and thus decreasing the movement
Spinal fusion surgery indication
There are many reasons for opting for spinal fusion surgery. This article will mainly focus on the TLIF technique, which is one of the most popular techniques used to execute spinal fusion surgeries.
Commonly, spinal fusion surgery is done to address back pain that doesn't seem to improve with conservative care.
A person's spine can become unstable or has slipped disk that presses on a nerve and causes pain when weight is put on the spine. The TLIF technique may be used to relieve pressure from the disk while surgeons fix it with hardware, such as screws and rods, so it doesn't slip again.
Spinal fusion surgery is indicated for certain spine problems, such as;
Degenerative discs
Spinal stenosis
Ruptured discs
Severe cases of scoliosis
Spondylolisthesis
What is Spinal Fusion Surgery?
Spinal fusion surgery is a procedure that fuses (connects) two or more vertebrae to provide stability and relief from pain. It is often used to treat chronic back problems that do not respond well to non-surgical treatments.
Post-Operative Care After TLIF Back Surgery
Post-operative care is an important process after any surgery, and may include everything from wound care to medication to physical therapy.
The duration of postoperative care following TLIF back surgery will vary depending on the extent of surgery and other factors such as age, medical history and surgeon preference.
Post-operative care begins with the hospital stay, wherein nurses monitor the patient for general discomfort and provide pain management and other therapies. Once discharged from the hospital, patients will still need to visit their doctor every few days to ensure that they are healing properly. Medication can be prescribed by a physician at this time for pain or inflammation.
Usually the patients are up and made to walk on the very next day of surgery by the physiotherapist. General conditioning exercises for hip and knee are started on the very first day of surgery. Patients are usually able to go to washroom unassisted on the second day of surgery. They are usually discharged from the hospital on the 3rd day of surgery.
Patients are advised to avoid any mechanical work for 6 weeks. They can start driving after 6 weeks of surgery. Office work can be started at 6 weeks post surgery. Most of the daily activities including household work can be started at 3 months post surgery , once the surgeon has confirmed that the surgery is healing well.
Finally post-operative rehabilitation can also be prescribed for intensive physical therapy or home exercises at 6 weeks to 3 months of surgery.
Recovery after TLIF Surgery
The best way to get back to your normal life after a TLIF surgery is to take it easy. You should not be carrying anything heavier than five pounds for at least six weeks post-surgery.
The recovery time for spinal fusion surgery can vary from person to person. However, it usually takes around 6-9 months for the spine to heal completely and pain relief medication can be stopped afterwards.
During this time, the patient does not need to be in a wheelchair and can move around comfortably
The recovery time for a TLIF surgery is about six weeks. Here are some tips on how you can get back to normal life after a TLIF surgery:
Take it easy and do not carry anything heavier than five pounds for at least six weeks post-surgery.
Eat healthy and maintain a healthy lifestyle post-surgery.
Keep your spine in the neutral position as much as possible, especially when sitting or lying down.
They are also advised not to drive for 6 weeks
Avoid ground level activities, sitting, squatting, forward bending and mechanical work for 3 months after surgery