21 year old lady from Iraq undergoes challenging Spondyloptosis Spine Surgery.
---
Spondyloptosis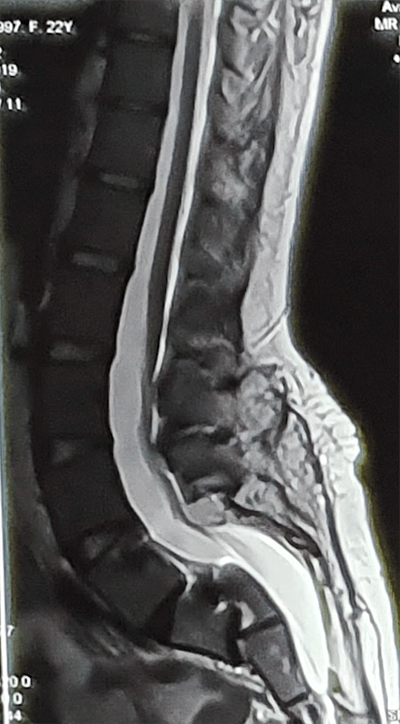 The first time doctors saw the patient, she couldn't even sit up, let alone walk. A grade 4 anterolisthesis in lumbar spine causing secondary canal stenosis with compression of the neural structures had left the 21-year-old woman unable to use her legs. Spine surgery Team at the Artemis Hospital, Gurugram, India began a series of extensive procedures for the young woman, following which she has now regained control of her limbs and is even able to walk.
"It truly was a miracle to see her walking, she was literally carried in by her family members because she could not even sit up when we first saw her," said Dr Prerak Yadav, Spine Fellow under Dr Hitesh Garg, Head of Spine Surgery Team.
The young woman, who hails from Iraq, had been rendered unable to walk for many months now. "It's like she was numb below the knees, no sensation at all. She was completely paraplegic and on examination was found to have zero power in her legs," said Dr Tarun Kukreja, Associate Consultant after clinical examination . Paraplegia refers to lower limb paralysis and is most commonly caused by a spinal cord injury or may even occur due to certain congenital issues.
In this patient's case, she was diagnosed with Spondyloptosis of the Verteral Column, which was causing a severe spinal deformity. Spondyloptosis is very high grade Spondylolisthesis which means complete slippage of one vertebral over another.
What is Spondylolisthesis? Symptoms, Causes & Treatment | Vertebral Spinal Injury L5 S1
This was placing immense pressure on the thecal sac and the neural tissue which resulted in the girl being paralysed from the waist down. Using a form of strength testing, known as power, which is used to assess a patient's muscle tone, doctors deemed her to have a power grade of zero out of a scale of five. "She was subject to rigid examination, doctors from the spine surgery team headed by Dr Hitesh Garg, worked together to assess her and determine the right course of treatment for her. Noticing the severe spinal deformity, they decided to first address the deformities and correct them," Dr Himanshu Tyagi, Sr Consultant Spine Surgery Team, Artemis Hospital, Gurugram explained.
Doctors achieved this through a surgical procedure in which they used multiple rods and pins (screws) internally to fixate the spine and vertebral bones. In addition, a bone graft was placed to ensure that the bone structure and spinal cord returned to normal.
After a period of 3 days following the surgery, the 21-year-old regained full power and sensation in both her lower limbs. "The patient has now gained complete control of her legs. She was able to walk out of the hospital on her own at the time of discharge" said Dr Tarun Kukreja, Associate Consultant Spine Surgery Team, Artemis Hospital, Gurugram